Decorate from bedroom to kitchen
The challenge
​
Tok&Stok is a major brazilian retail brand for furniture and decoration. The app works as an m-commerce platform and includes many fun features to inspire its users, such as augmented reality.

The MVP kick-off was after a Design Sprint immersion week at the company in Sao Paulo, Brazil. After the MVP was ready, we had a Design Thinking immersion to ideate the after sales features and participated at Apple workshops at WWDC20 to create Widgets and AppClips. Before the launch of the app in the stores, we made a UX Research to validate and make improvements. The app was developed by the Kobe team in both SwiftUI and Kotlin programming languages and is currently available in AppStore and GooglePlay.

My tasks as the lead UX / UI Designer were:
User journey maps

Userflows

Sketches and Wireframes

UI Design & Prototyping

Sprint documentation

UX Writing

Animation and Illustration

User research & Analysis

Design System Guidelines

Client meetings
The project arises from the need to create a new shopping channel aimed at people in the process of acquisition or inspiration, in search of design and quality. As part of Tok&Stok's digital transformation process, the App is a new possibility for technological and omnichannel experience.
The Minimum Viable Product
In June 2019, a part of the Kobe team went to Tok&Stok's headquarters in Barueri, São Paulo, to facilitate an immersion process in the company. For a week, activities from Lean Inception format, a methodology created by Paulo Caroli, which aims to help companies and businesses to create their ideal MVP to validate their idea in the market.

Our challenge was to develop MVP in 3 months in two native programming languages SwiftUI and Kotlin, for iOS and Android respectively. After intense three months of work, the MVP was delivered. After delivering the MVP, Tok&Stok ran internal tests with the beta version for selected users to initially test the minimum viable product.
Inspire and facilitate product discovery
​
Navigation through inspiring environments, facilitating the visualization of products for purchase, was one of the guiding points for the development of MVP. The implementation of Augmented Reality brought an innovative way to discover brand items, enabling customers to view products in their own environment and share the composition created with other people.
Innovative shopping experience
​
Through the omnichannel strategy, we created features that contributed to the decision making of users in different sales channels. We seek to bring the experience of physical stores to the app, allowing the user to initiate a purchase through the app and end at the store with a seller.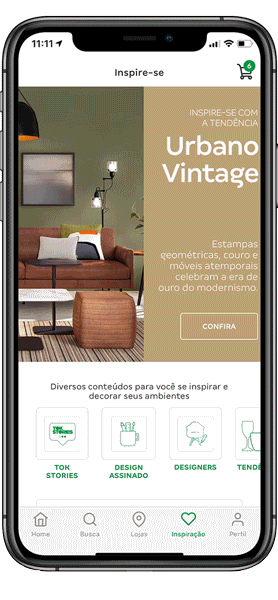 Customizable Platform
​
New product lines are always being launched, whether permanent or seasonal. To make it easier to update the application by Tok&Stok's own internal team, we implemented the CMS client, allowing the inclusion and alteration of banners, promotional and inspirational content, creation of hotsites and customization of the platform.
In December 2019, Kobe returned to Barueri, São Paulo to perform a new immersion at Tok&Stok, this time a week of Design Thinking. We use the approach created by Tim Brown and David Kelley to solve problems in an innovative and creative way. During this period, we discussed and raised hypotheses for improving the After-Sales system with different sectors of the company.
We also have a workshop day with Apple to share with the Kobe and Tok&Stok team vast knowledge about innovation and creativity. With new inputs, we started to plan and develop a new large product module, with the objective of creating an excellent OMS system with a focus on autonomy, transparency and ease of use.
First concept of the order tracking flow, created at the Design Thinking immersion week
Intuitive and uncomplicated order tracking
​
We designed a navigation and interaction that facilitates the tracking of orders for users. Through animations, colors and details on the interface, we show in real time if the order is in separation, with the carrier, on the way home or ready for pickup at the store.
Final concept of the order tracking flow, improved with animations and CRM APIs data
Simplifying customer service
​
We provide the user with several service channels so that their doubts are resolved quickly and without bureaucracy. In addition, we created a system of Frequently Asked Questions, customizable according to the needs of Tok & Stok, where customers enjoy a quality self-service, without having to contact other people.
Frequently Asked Questions system
Dynamic profile with voice command
​
We developed a profile concept based on social networks, bringing modernity and dynamism to the interface. In addition to being able to view personal data, trends and favorite products, the user can follow orders from his account by voice command, inside or outside the application.
Voice command feature in iOS and Android
Between June and July 2020, we conducted UX Research, planning and applying different research and testing methodologies, which contributed to validate the main functionalities of the application. We conducted remote, moderate usability tests and a continued use diary. These techniques ensured the generation of development backlog and improvements based on the analysis of the data obtained.
Usability Tests
​
Using Lookback, alongside Tok&Stok research team, we conducted two usability tests, first with Tok&Stok employees and then with real customers, where we were able to measure the ease, navigability of the application and users needs.
​
Feedback
Overall, the information is clear and easy to understand

Many inspirational collections make users confortable to find their own style

Augmented Reality works fine and helps a lot to try furniture at your home before purchase it

The lack of product evaluations and comments by other users that purchased make users suspicious

It would be interesting to provide login and sign up by social media accounts
Excellent
System Usability Scale
Successful
completed tasks
Continued use diary
​
We made a selection of heavy users of the brand's services, known as Tok Lovers, to follow the entire purchase process through a diary of continued use by WhatsApp. Each participant received daily activities and recorded their impressions.
​
Feedback
Users do not understand what search for image is used for

There is a lack of certainty on checkout of what products are being purchased

Inspirational collections page is difficult to find

Users get confused whether they need to keep the chat open while they wait for an answer on Help page

Users want to see the history of recently viewed products
Apple innovations workshop
​
After the launch of the application at AppStore and GooglePlay, our team was invited to participate in WWDC 2020 innovation workshops, to create user flows, interface and experience for the newest Apple technologies: Widgets and AppClips. Those features were a challenge for the team but were developed and delivered in one month.
Widgets
​
Two kinds of widgets were created according to the app users needs:
Order tracking: Shows last order details until is delivered / picked up last order details until is delivered / picked up

TokStories / Collections: Shows new product collections, that changes every hour. Users can access through their home screen the inspirational tab or the product detail page on the app.
Order tracking Widget enables users to get informed about their products delivery or pickup status
TokStories Widget enables the user to check it out the newest product collections and inspirations
AppClips
​
Our team decided to create different user flows and prototypes for AppClips to two features: Augmented Reality and Stores. The goal was to give the opportunity to the users to try the brand products at their homes and to visit the stores nearby.
Augmented Reality from a QR Code AppClip prototype
Augmented Reality AppClips userflows
Stores AppClips userflows